2JW Radioactive's Shady Lady - ABGA#10763608 - FULLBLOOD DOE
​ DNA VERIFIED BY UC DAVIS RECORDED BY ABGA
---
LK7 Devils Rose - ABGA#10745068 - FULLBLOOD DOE
​DNA VERIFIED BY UC DAVIS RECORDED BY ABGA
---
ADVBG Fancy Pants - ABGA# 10701661 - FULLBLOOD DOE
This gorgeous doeling has a pedigree as impressive as her picture. Ruger Reloaded*, Polar Express*,Get-a-Grip* and Maximizer*all Ennobled. She is a flush mate to "Unanimous Decision" and "Angel Face" who both won 1st in class at the 2015 North American International Livestock Exhibition.
---
---
ADVBG Max's Sun-Kist - ABGA# 10681426 - FULLBLOOD DOE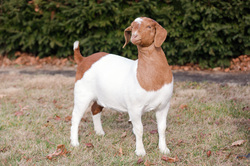 One day while searching the web I saw a picture of a buck ZA Z01 Maximizer *Ennobled* on the Advanced Boer Genetics website. I was so impressed I had to have an offspring. I was honored to be able to purchase Sun-Kist his daughter. Her picture says it all and she is as sweet as she is pretty
---
---
BON JOLI ZYDECO - ABGA#10656198 - FULLBLOOD DOE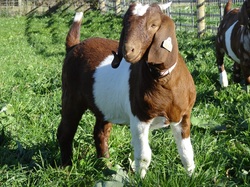 This impressive paint has generations deep in dapples, excellent
conformation, bone and mass to make her bloodline proud. She is a Bon Joli Mambo King daughter and grand daughter to both Copperhead and Sir Spotsalots. Lots of power in this pedigree.
Teat Structure 2+2
Pictured at 5 months
---
---
BON JOLI BONITA - ABGA# 10596621 - FULLBLOOD DOE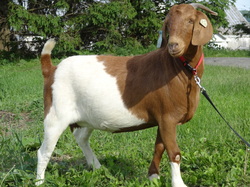 Bonita has come to us from Texas with a winning pedigree. Her top side includes sire TAM Mr Freckles, TAM War Chrome and *Ennobled* Fern Hollow Red Ruger. Bottom side has Bon Joli Maxi and grand sire KALR Stone Cold SA. We are waiting excitedly for her to kid from a spring breeding from Copperhead himself.
---
---
SUMMER SUNSET - ABGA#10609459 - FULLBLOOD DOE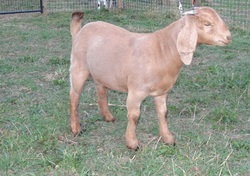 Summer is solid red and was born 4-21-2013 will be part of our foundation herd in 2014. Her sire is 3LF Copy Cat a double bred T4 Scorpio buck. Her dam Angel Delight has a pedigree with Ennobled DER War Paint and Ennobled Red Ryder. Her twin sister is below.
Teat Structure 2+2
Pictured at 6 months.

---
---
COCOA MOCHA - ABGA #10598082 - FULLBLOOD DOE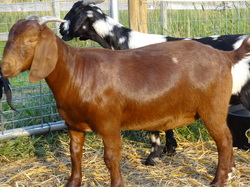 Cocoa is solid red with a white spot on her belly. Her Sire Lazy S-T Coppertox and Grand Sire Bon Joli / Lazy S-T Copperhead both have an impressive build and dappling. We wait in excitement to see what this genetics adds to her offspring.
Teat Structure 2+2


---
---
LILLIAN LACE - ABGA #10574493 - FULL BLOOD DOE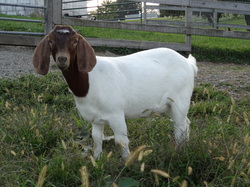 Lillian is a very solid traditional with blood lines that include ennobled Eggstrasensory Perception and Ennobled BMW Tributes Chanel M76.
Teat structure is 2+2.
---
---
CARMEL ROSE - ABGA #10574500 - FULL BLOOD DOE

Carmel is solid copper red with one white foot. She is a double bred TRIPI Code Red & BPF Maxum Exposure. Blood lines include Ennobled Eggstrasensory Perception & Ennobled Eggsfile.
Teat structure is 2+2.

---
---
KJ'S FIONA - ABGA#10621605 - FULLBLOOD DOE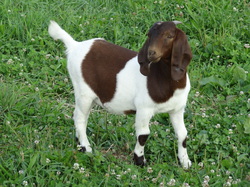 Fiona marked cute as a button is a red and white paint that will
join our foundation herd in 2014. Bloodlines include Ennobled Hill Country
Buri and TRIPI Code Red on the top. Black as Lignite Homer and TRIPI Code Red on the bottom.
---
---
Dappled Dandy's Sage - ABGA# 10690520 - ​FULLBLOOD DOE
---
KJ's Candy Apple - ABGA# 10673314 - FULLBLOOD DOE